'FAQ'/Guide on using Voiceacting UK's forums and features:
Contents
(1) Signing Up
(2) Making your Resume
(3) Posting Comments
- Editing / Deleting Comments
- Hyperlinks
- Posting Images
- Copying/Pasting Text
- Inserting HTML (e.g. Youtube Videos)
(4) Posting Threads
(5) Private Messaging

(6) "How do I get started in Voice acting?"
(7) "What equipment should I use?"
(Press Ctrl + F, followed by one of the contents then press enter to jump to that section)
Signing Up
Making Your Resume

Lucky for me, Azure kindly made a tutorial on signing up and creating your resume. (Note: Theme has changed since upload)



Posting Comments
Posting to a thread on the site is really simple, go to the bottom of the original post on the thread (or a comment) and look for the "reply" button; your internet browser will now direct you to a new page. You'll see the thread/comment your replying to; below that you should be able to see 'Your Name', the Subject (title of your comment) and a Text box for your to comment in. Firstly if you wish your comment to have a title then do so in the Subject Text Box (if you leave it blank then the first couple words of your comment will be placed as your subject instead). Now in the text box 'Comment' below type out your comment and click save. Your comment will now posted to the thread.
Example of a comment:

- Editing / Deleting Comments
Edit:
Go to the comment you wish to edit and press the 'Edit' button, you'll be presented with a page similar to the one you used to post your comment. Simply go to the comment text box, make the changes you wish to and click save. Your comment will now be edited.
Deleting
Go to the comment you wish to delete and press the delete button, you'll be asked if your sure you wish to delete your comment Click Ok to delete (Note: This cannot be undone).
- Hyperlinks
(note: this will be done using the built in text editor and not HTML)
If you wish to add a link to your comment/thread then you can simply just copy and paste the URL in your comment and it'll be automatically linked; if however you wish to make add a little more to your link (such as making it part of a text, opening in a new tab etc) then highlight a word on your comment and press the Insert/Edit Link button (as shown below)

A pop-up will now appear, to add your URL just simply paste into the URL text box and click OK; if you like to add more to your link such as opening in a new tab/window then press the 'target' section. Now click on the 'Target' drop-down box and select either <popup window> (for the link to be displayed in a new window) or _blank (for the link to be displayed in a new tab). Click OK to make your changes and then click Save to save your comment!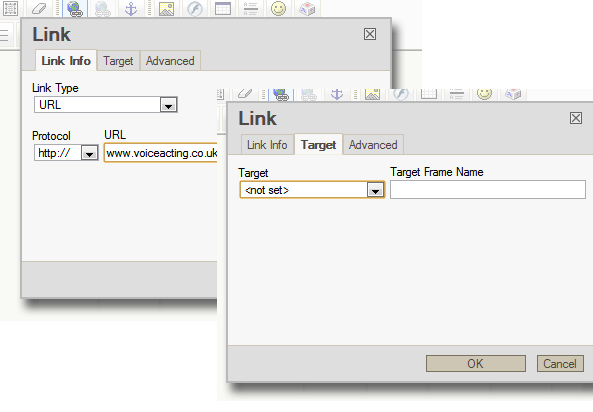 - Posting Images
If you'd like to add an image you found online or uploaded, simply copy the direct link of the image from its website, go to 'Insert/Edit Image' (as shown below)

You will now be presented with the 'Image Properties' pop-up windows (as shown below):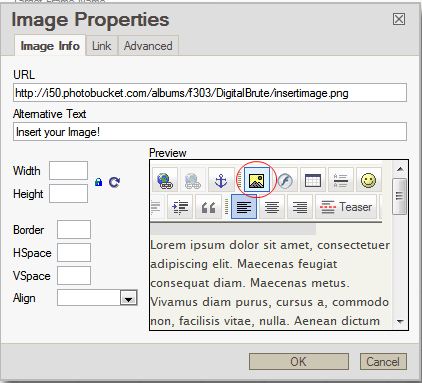 Post the URL where your image is held in the URL box and Click OK; if you'd like to add extras such as Alternative Text (this appears when the mouse hovers over the image or if the image cannot be displayed) then type your comment in the alternative text box. If you wish to turn your image into a link itself Press the 'Link' Tab insert the URL in the first text box and if you'd like to five it a target click on the 'Target' drop down box (select _blank for the link to appear in a new tab).
- Copying and Pasting Text
Start off by copying your text (if this includes HTML then I'd recommend pasting in either the 'Source' tab (found in the top left of the text editor) or switching to plain text editor (found below the text editor) then go to the text editor and on the top left row you'll see three clipboards; if your pasting just plain text then click the second button (one with the T in the bottom right corner), paste your text and click OK, if you pasting your text from Word (i.e for formatting and styling) then press on the third clipboard (one with the Word logo on it) past your text from Word and Click OK. Once done either of those, click save and your comment/ thread will be posted!
- Inserting HTML
To insert your HTML you will first need to either go into 'Source' (button on the top left of the editor) or to the Plain Text editor, insert your HTML here for it to be displayed in your comment and/or thread; to embed a YouTube video, click 'Embed' on the video you wish to enter (as shown below) and copy the resulting code found in the body next to it, paste the code into either 'Source' or plain text editor and click Save. Your video should now be displayed in your comment/thread.
- Posting Threads
Go to Forums (found at the top of the website), select an appropriate (related) section, then press 'New Topic'.
Type out the title of your thread under 'Subject'
If you feel like you've changed your mind about which section your thread should be in then simply go to 'Forums' section and select the forum in the drop-down box
Select what type of production the thread is related to (just put other as default if none of them match)
Include your Tags in the 'tags' text box (this'll help people find your thread)
Now insert your main content in the body, same methods that you used for comments can again be used in making your thread
Once your happy click 'Save' and your thread will be posted to the forums!
NOTE TO PRODUCTIONS/DIRECTORS: Before posting your audtions to the site, please read through our essential rules, failure to comply with these basic rules could risk your thread being locked. Link: http://my.voiceacting.co.uk/board/please-read-this-before-you-posthow-to-post-auditions-essential-rules
- Private Messaging
To start a new private message either go to the user's profile and click 'Send this user a message' or go to Write new message (found on the right hand side of the website under 'Private Messages'.
Insert the receiver's username (a drop-down box will appear with users on the site as you are typing, click on the user to enter it)
Put a subject
Enter your Message in the body
Click Send Message!
(Note: if another user has sent you something inappropriate then please do not hesitate to contact DigitalBrute or Azure
F.A.Q
"How do I get started in Voice Acting?"
Record!, We have plenty of tutorials on the site that can help improve your overall performance when acting and editing; here are a few of the basic tutorials to get you started:
These are just a few of the available tutorials to see the full list go to Tutorials. Once your confident enough with your abilities, record your audio (can be your own work or lines from a film, anime, audio drama etc) and put it up on the internet for everybody to critque!
"What equipment should I use?"
This really depends on your budget and how much you are willing to spend, we recommend you go for a desktop microphone (not headset) this'll help cut down on audio puffs and gives you a lot more freedom to move around. I myself use a Logitech USB Desktop Microphone (cheap and effective) with a Creative Fata1ity Headset (minus the microphone) I use this for listening to my recordings to pick up on any errors (It picks up everything! Be Warned I use this to critque >:D)
As for recording software I of course use Audacity, free and open to plug-ins. Perfect! If you have your own expensive recording software then stick with that!
Update: Included TrakAx
If you are looking for software to aid you with dubbing your scenes, We recommend this free to use Video Editor TrakAx. It supports many video/audio files, able to render into HD and the basic version is free! To help you get started aswell Azure has made some useful tutorials with the program which are as follows:
If you'd like to request any guides or have any questions please contact me.
__________________
Be a part of the community! -- AVA List
Who's online
There are currently 0 users and 14 guests online.